Dear Readers,
Let's be real…
As divine as Regé-Jean Page is in the sensational Bridgerton series, the real star🌟 of the show is the very mysterious Lady Whistledown and her Society Papers. 
And I don't know about you, but I'm here for it. As Eloise Brigerton puts it, "We should both aspire to be just like her. Unmarried, and earning our own money."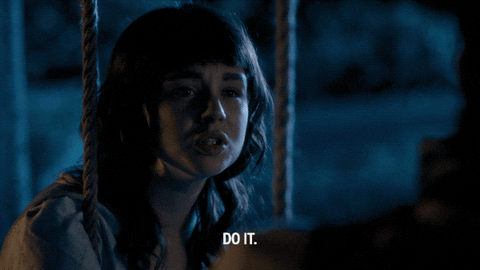 While you may have your own take on the marriage bit, I, for one, want to be just like Lady Whistledown: a badass trailblazing female entrepreneur taking life by the reigns! (Not to mention, she's working her way towards financial freedom 💸)
If you've binged the Shonda Rhimes Netflix series – or better yet, the Julia Quinn book series  – you may know a few spoilers, like the identity of the mysterious Lady Whistledown. And while you were likely enthralled by her character, as most of the Ton was, you may have missed some of the life-altering drops of inspiration, not just for life, but for entrepreneurship!
While the amount of inspiration I gather from Lady Whistledown is truly endless, here are the diamond-of-the-first-water-status lessons I learned from Lady Whistledown:
1. You have to be a bit scandalous
Okay, maybe don't go out creating scandals, but definitely be bold and take risks! Lady Whistledown takes the Ton by storm with her Society Papers. Her bold risk? Identifying her subjects by name! 
She does the unthinkable and gains traction in an instant. She's got an unbeatable unique value proposition. She quickly and effectively differentiates herself from the other gossip rags…and the Ton went crazy for it! 
Your offer or brand needs a unique value proposition.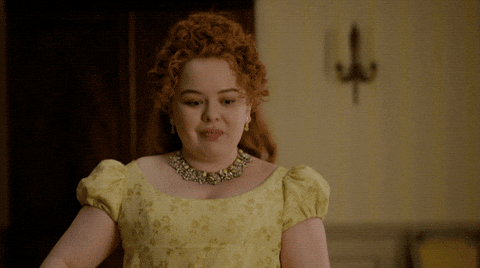 2. People love free sh*t – especially when it brings them value
Lady Whistledown launches her scandal sheet by handing it out to all members of the Ton for FREE. Yes, FREE! She provides a no-risk offer to rope them in, and it works like a charm. 
While in the case of her society papers, the value is simply entertainment – or for some, possibly some intel for a wicked ruse – it still brings value. Value doesn't need to be knowledge or tied directly to a monetary value – it can be entertainment or even emotions like helping build trust. 
3. There are always going to be people who don't like you or who are even trying to tear you down
The Queen Charlotte's of the world suck…her Majesty's word is the be-all-end-all. So when Lady Whistledown's writings threaten to undermine her authority, the Queen schemes a plan to shut her down. She wants to cause Lady Whistledown's demise simply because Lady Whistledown questioned the Queen's accuracy regarding Daphne Bridgerton, whom she dubbed the season's Diamond of the First Water (don't get me started on that nonsense…)
I mean sure, is Lady Whistledown shaking up some trouble and probably ending up on some people's bad side in the process? Absolutely! No doubt there's a fair amount who aren't a fan of her and her gossip rags. 
But the real villains to look out for are the Queen Charlotte's of the world who want to crush their competition whenever their fragile egos are threatened. 
Don't be one of them, but don't be too naive to think they don't exist. Take Queen Charlotte as an example– they may just be hiding in plain sight! The best way to beat them? Just keep doing you!
4. Learning is Key
Observing. Learning. Absorbing information. Analyzing the data. All of this will take you far in your entrepreneurial journey. Lady Whistledown's entire career is just sitting back and letting everything play out, then taking that information and turning it into something sensational!
She teaches us that sometimes being in the room where it happens is more important than being the ring-leader of the room. As a result, she goes essentially unnoticed in her work, but her impact is enormous. 
5. Your career doesn't define you
For those of us who've binged the first season of the Netflix series until the very end, or have binged the book series, we know the true identity of Lady Whistledown. While I won't spoil it for those who are still watching, we do know that Lady Whistledown has dreams and desires that go beyond her Society Papers! 
Does she love her work? Sure! But that doesn't mean she wants her life to revolve around her career. She wants a family, a husband, a life full of happiness…as she should.
Can your career be a large part of your identity? Yeah! There's nothing wrong with that. But should it be your whole identity? No. You deserve it all, so take it!
TDLR: Don't sacrifice yourself for your business. Your business will function at its peak when you are taking care of yourself! 💅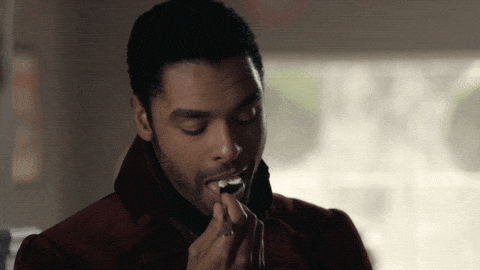 6. Women supporting women is a bunch of bullsh*t! Well… unless they mean it
*Slight Spoiler for Book/Season 1 Ahead* 
You can't argue that one of the best scenes (well, besides Simon in the tea shop licking that spoon in the Netflix series 😳) is when Eloise Brigerton saves Lady Whistledown's ass. She does this with absolutely zero expectations of getting anything in return. And she still has no clue as to the true identity of Lady Whistledown. Now THAT's women supporting women 💪
In all honesty, "women supporting women" has become something of a shitty trend consisting of empty words. The women in the Ton are constantly competing against each other to get ahead, and they make bold moves to get what they want, even if it sets someone else back. All fine and dandy if that's what you're going to do, I guess, but don't go claiming "us girls gotta stick together" if that's the case. 
The same thing goes for the real world. How many women hold board seats? How many men? The difference there is huge. Women competing against each other in the workforce is inevitable, but if you're a "women supporting women" claiming lady, don't go slandering your competition or crafting some ridiculous ruse to get the spot. 
If you have to go to those sorts of lengths, you probably shouldn't be in the running to begin with…
7. Strategy is necessary
Every business needs a business plan. A strategy. Lady Whistledown's is to silently observe, do her thing, and deliver her writings to the press during big events like balls when the rest of the Ton is preoccupied. Genius! 
A well-thought-out strategy should underlie almost every aspect of your business. 
*Slight Spoiler for Season 1 Ahead* 
At the end of season one, watchers see that the Queen has figured out Lady Whistledown's secret strategy, so it's no longer going to work for her. She'll have to re-evaluate and develop a new strategy, as you will likely have to do at some point in your business. Your business will evolve and scale, and your strategy needs to with it!
8. No one who successfully inspires people intends to be inspiring from the get-go
Lady Whistledown begins her entrepreneurial journey writing her scandal sheets with zero intention of inspiring anyone. But she immediately inspires Eloise Bridgerton. You don't plan to be inspiring. You do you, and you do it well, and you will naturally become an inspiration or trendsetter or even trailblazer! 
Once you realize you're inspiring those around you, you can definitely do more to share your experience and story to help continue inspiring people. But if you start your business with the primary goal of inspiring people – unless you're in a specific industry like motivational speaking – you're likely going to struggle. Instead, your focus should be on what you do, how you do it, and who you serve! Not some measurement of success – that will come naturally right along with it!
9. Don't let yourself be put into a box
Lady Whistledown is a badass female entrepreneur in a time when it was unheard of for a woman of status to work and earn money. But, she broke free from society's expectations and forged her own path! 
There are a million people out there telling you what to do to be a successful entrepreneur, but sometimes you've just got to do the unconventional! 
And let's not forget about imposter syndrome. As much as we love Eloise, and her brother Benedict, they both suffer from imposter syndrome, doubting their abilities and lacking the confidence to go after their dreams. 
Don't let self-doubt and fear hold you back. Go after what you want. You have to live the life you want, not the life you think you should.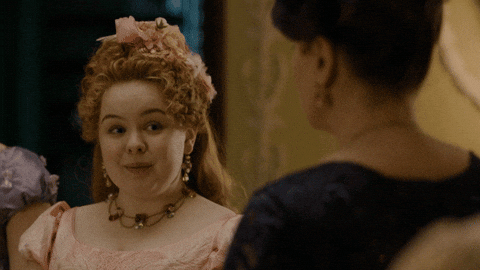 10. Infuse your personality into your brand
Lady Whistledown infuses her personality into her brand. She talks directly to the reader, reveals the Ton secrets she finds most interesting, and showcases her personality (all while remaining anonymous!!) 
"Of all b*tches dead or alive, a scribbling woman is the most canine." 
DEAD 💀💀💀
This one little quote speaks volumes on her personality…and gives the well-read viewer a big clue as to her identity!
Lady Whistledown referenced this quote in the first episode of the season. It's taken from a letter Lord Byron wrote to John Cam Hobhouse in the early 19th century, so – for the book and literature nerds like me out there who recognized it – we know she's well-read. 
On top of that, if, like me, you know the origins of the quote, you might have immediately identified the true identity of Lady Whistledown as another character references this same poet not too much later in the same episode! 
Even at a basic level, we know Lady Whsitledown is both nosey and – for her benefit – blends into the background and doesn't call attention to herself. She's a bit of a wallflower. Her mysterious aura is what draws people in as they all want to know her true identity. 
Lady Whsitledown's experience as an entrepreneur can be an inspiration to many of us. The glass-ceiling-breaking trailblazer quickly becomes a household name (and amasses her wealth💰) from selling bold scandal sheets. No one sends ripples of fear, delight, and raging curiosity through the Ton quite like the mysterious Lady Whisltedown. 
—-
Has a book, podcast, or series inspired you recently in your entrepreneurial journey? Or even just in life? Join my Boozy Book Club to connect with other badass creative entrepreneurs like yourself to share your inspiration and get some good book recs in the process!