As you know, I'm a web designer and brand strategist. So, you would expect somebody in my shoes to say that the most important thing to invest in is your website, right?
❌ Wrong 
In fact, I'm going to take it even further and say something that maaaaay be controversial.
The number one thing you should invest in for your brand is professional brand photography.
📷
What'd you say, Bailey???
Hear me out. When you're first building your business, you need to be a bit judicious about your investments. Professional web designers, copywriters, VAs, all that good stuff will come as you scale your business.
BUT, having visual content that represents your brand should be the first piece of that puzzle.
When people land on your website, they are unlikely to read all of the amazing/hilarious/sincere text that you've spent hours agonizing over. The first thing they'll do is look at your visuals.
Your visual content will either entice them to stay and consider your offer or send them back to Google. 
For those of you ready to go forth and vogue your heart out, I've put together some quick and easy FAQs to get you started:
How do I find a good brand photographer?
👉Put your librarian glasses on and dig in for some good ol' fashioned research! Social media is a great place to start. Check out businesses like yours. See who has great photography and find out who they used. You can also search hashtags like "#brandphotographer[your city]" or "photography[your city]" to get ideas. In fact, finding one photographer may lead you to more as they often network within posts!
👉You should also check out their website. Read their "About me" page, look at their client testimonials, and check out their portfolio. Remember to look for someone who will be able to represent YOUR specific brand. So, if you're a solopreneur in the mental health space, a brand photographer who specializes in corporate accounting may not have the style you're looking for.
👉Tl;dr – Stalk them. Website, testimonials, socials. Look for cohesive messaging and effective brand representation.
Why should I invest so much money when I can take photos with my iPhone?
👉A good brand photographer does so much more than taking high-quality photographs. They bring your brand to life! Great photography will tell your brand's story and will rope leads into engaging with you. 
👉Remember, these are not traditional headshots- those died in the 90s (thank god). Brand photography should feel candid and dynamic. It is the first thing people will see when they visit your website or social media account, so make it count!
How can I get the most out of my session? 
👉Be prepared. Make sure you are clear with your photographer about what you're looking for in your photos and other visual content. Decide whether or not you'll be using them for your website or social media, or both, and let your photographer know (I talk more about the differences between web and social photos here!)
👉KNOW YOUR BRAND. Don't waste your session. Be prepared with a defined brand and top three brand identifiers. Have a mood board. Be specific about your wardrobe and background choices. Your photos should complement your content strategy and speak to your ideal client.
👉Be confident. This is a hard one, especially for those of us who prefer to stay behind the scenes. In fact, I put off having my photographs taken for months simply because I dreaded seeing myself on camera. Remember that a good photographer will make you feel at ease and produce photographs that feel good to look at. They know how to get a flattering angle, how to provoke a natural smile, and how to manipulate the lighting. If your brand is you, getting comfortable and confident is imperative to building a successful business. And you're amazing- so why shouldn't you flaunt it?!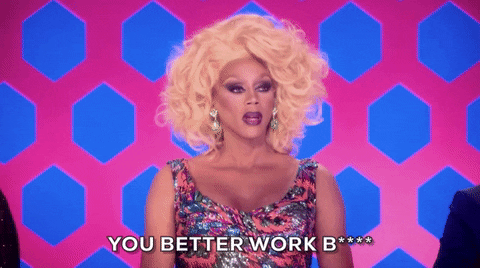 Ok, babe. Now go out there, put your sassiest outfit on, and get you some photographs that represent your bad-ass, super unique, kicking-butt-and-taking-names self! (And when you've done it DM me and tell me how it went!) 😘