The other day I had a HUGE project to finish up for a client. It was the end of the month, and I had a stupid amount to do.
So, of course I spent the morning organizing my closet and doom scrolling on my phone.
#Priorities
I was mid-scroll when I saw a gif that hit so hard, it made me laugh and cringe simultaneously: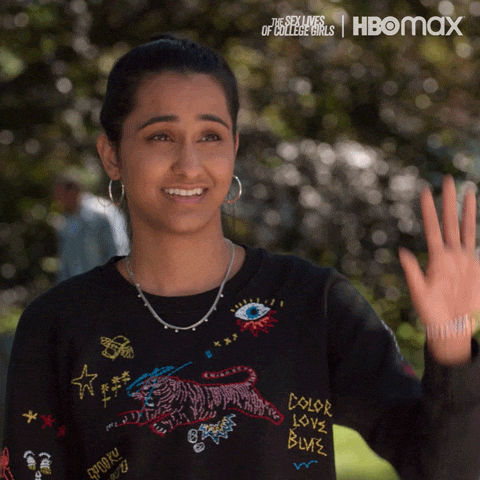 Raise your hand if looking at old posts sends you into a shame spiral 🙋 
Remember how much we all loved those damn Instagram filters and curating the "perfect" selfie? I think we all wish we could go back in time and delete those early Insta-days over-edited photos 😖
The best thing about how social media has evolved over the years is that it has become a place where we can actually be our authentic selves- messy hair and all!
It's a place where your brand can present in a relatable and more casual way.
In fact, the photography you use for your social media can, and in a lot of cases probably should, be very different from what you use for your website.
You've heard me say this before, but hiring a professional brand photographer is one of the most important things you can do for your business.
And knowing how to get the most out of your photographer is equally important!
Of course, you don't need a professional photographer for your social media photos (in fact, sometimes it's better just to put that expensive iPhone📱 to use instead!), but if you do use one, here are a few things to keep in mind during your session:
Social media photos should:
✨ Include more action shots (gifs, reels, etc.)
✨ Showcase your personality (authenticity = connection)
✨ Be shot primarily in vertical orientation (portrait mode)
✨ Incorporate your Top 3 but also play around with your other brand identifiers
Website photos should:
✨ Include more horizontal shots (landscape mode)
✨ Have a more polished look (but not staged!)
✨ Stay "on brand"
✨ Be specific about all the elements of the photos (clothing, hair, make-up, props, colors)
✨ Highlight your Top 3 identifiers
A good brand photographer will know how to create distinct photos for each of your platforms– but you don't have to wait for a professional to start creating content!
Start with scrolling through Pinterest for some inspo. Then, find some good natural lighting, put on your favorite outfit, and let your partner or friend snap a few shots of you in your natural habitat. If your brand is you, showcasing your most authentic self is the best way to increase engagement and create connections with your followers.
Website and social photos should both showcase your brand authentically.
And although the content will be different, your visual content must be cohesive. It should be clear that your social media and website are part of the same brand.
Your brand should be so specific that when people scroll through their feed, they immediately know that it's you! 
So, if you haven't already figured out your Top 3 identifiers, do that now. 
Set your brand up for success by creating content that captivates and tells a story. Your brand is worth the investment and so are you! 😘